ROCK RIVER ROCKIES
WELCOME TO ROCK RIVER ROCKIES
ROCKY MOUNTAIN HORSES
Our farm is located in south central Wisconsin near the winding Rock River. Rock River Rockies is one of the few breeders of Rocky Mountain Horses in the region.
Our goal is to provide the best quality, old-time "Rocky Mountain Horse" to preserve and protect the old-time gait and disposition. We choose stallions that are the best in the breed to complement each of our mares. This produces top-quality foals possessing the gait, temperament, conformation, and beauty that makes the Rocky Mountain horse a treasure to own. Our prize horses are all RMHA registered. Our mares are top-notch foundation stock with a high percentage of "Tobe" bloodlines, producing some of the best foals in Wisconsin and throughout the country. (Tobe is the foundation sire of today's Rocky Mountain horse breed). Our mares include a direct daughter of "Maple's Squirrel" by Tobe, a third generation mare by "Tobe" that possesses four of the five sons by "Tobe", and a mare with Kilburn's Chocolate Sundown, Sam Clemon's Tim, and Johnson's Toby bloodlines.
Rocky Mountain Horses today are being used for pleasure, trail, competitive and endurance riding. As show horses, the breed is rapidly gaining popularity, because of its beauty and unique way of moving in the ring. The calm temperament of these horses makes it ideally suited for 4-H or youth. Because of their gait, they require a minimum effort by both horse and rider. Rockies are known for their unbeatable temperament. They are suited for all levels and ages of rider.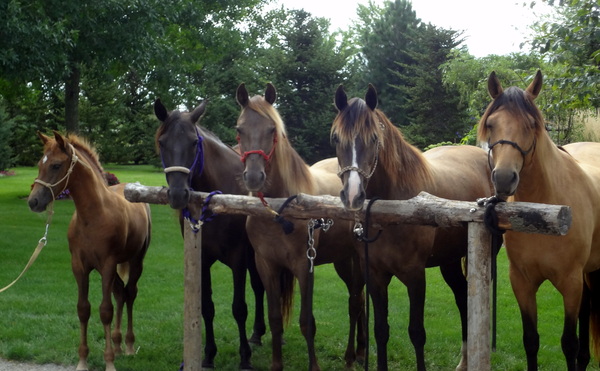 Contact : Dave & Lynn Ewert
N8593 Hustisford Rd.
Watertown, WI 53094
920-285-6675
ewertdl@netwurx.net